Simplifying and having the right "priorities" this year.
These are the common goals of many people – especially working moms.  And I am not an exception, I am one of them who wants to stick to my priorities in life and just love a much simplified life.
I've noticed that I always crammed and always felt torn between two or more important things. (event invites, workshops and wifey-mommy duties)
Thankful that I remembered what my husband's leader and our church senior Pastor taught him before on How to Prioritize.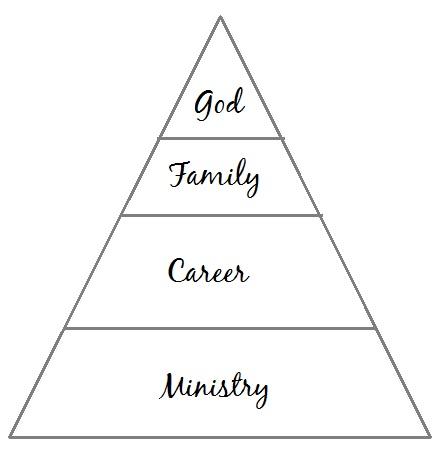 By referring to this pyramid or chart, it shows here that above all God should be on top.
GOD –

Its a good reminder to always put God on top of my schedule. No matter how busy the day is. I should always set-aside a time of the day to read His word and talk to Him. And of course, a full submission to His will in every decision making we will face everyday.
 But seek first the kingdom of God and his righteousness, and all these things will be added to you. Matthew 6:33 
Family

,

not our business nor our ministries. I believe that more than being an entrepreneur, a blogger, a friend. I am a first a wife and a mom. So by sticking to this chart of priorities, I am reminded how to prioritize events in my life.
For example, I wouldn't trade a special anniversary date with my husband to attend a blogging event.. nor a business meeting instead of celebrating my son's birthday with my family. Many opportunities may pass or may be lost by sticking to priorities but I also agree on this quote
 " if its meant to be, it will be" 
Career -my husband's leader told him that he should never absent to his work to fulfill his duties in his ministry. (Not unless he is a fulltime volunteer I guess)
There are instances last year that my chart looked like this: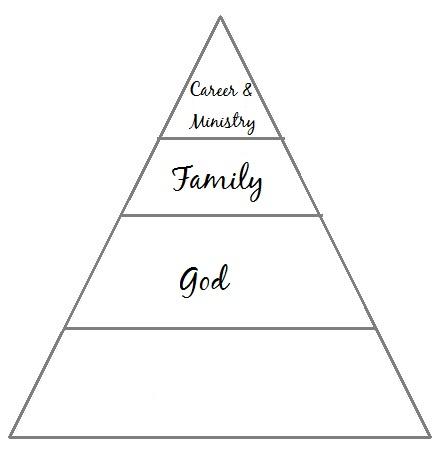 Its been a busy month, so many events, so many business projects that I missed playtime with my Zee and some evening talk with my husband.
My quiet time became a "quiet minute" Yes I still do pray and read the word but I am always cramming and always in a rush.
Am I happy? No. I felt completely drained. I'm incomplete without Him on my schedule, I felt I am not enough as a mom and wife. Everything seems pointless. Thank God for the wisdom, I am back on track now.
Ministry, under this category is being a church volunteer, being a part of a spiritual group, being a friend, a neighbor ,a community member and a blogger.
I was reminded about the story of Martha and Mary on this part. I don't want to be Martha, who's so busy doing things for Jesus but didn't even give my full attention to just listen to Him and just be with Him. (Losing the quiet time)
Instead prayerfully, I want to be Mary, who chose to sit beside Jesus and listen to the Word of God. There's nothing wrong in doing our ministries, it is part of our calling to "serve" but above all, we should always be reminded of the top of the chart "God".
I hope this post, will help you prioritize your time, money and your efforts this year. Though we may fail sometimes to stick on our priorities in life, its good to have this "Priority chart" that can help us remember what should be on top and bottom of everything else.