We all can agree that money is a good tool. A good tool to achieve dreams, it helps us buy the things we need and even want, a very good tool to help other people as well.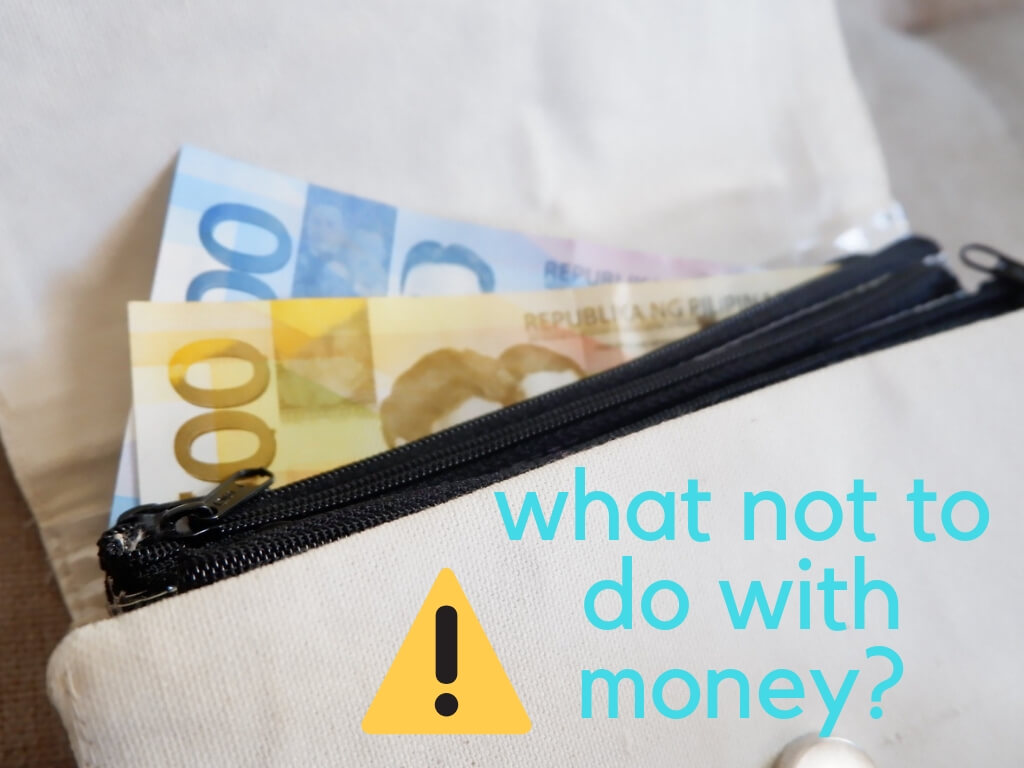 Sabi nga nung napakinggan ko noon, "Plastic daw" (ang-harsh!) ang magsasabi na hindi kailangan ang pera. Well, true naman, we all need money everyday. Starting from our daily needs like food, shelter, electricity and more.. Di ba?
But.. what are the things nga ba that we shouldn't do with money mommies? May mga bagay ba na hindi natin dapat gawin sa pera? Yes, yes yes mommies, meron!
And here are some of those things that we should not do with money..
Like any resources, wasting is one thing we shouldn't do with money. Being a one day millionaire, buying things that aren't really needed, spending money on vices and living a lifestyle we really cannot afford are just some examples of how we can waste our money. Steward lang tayo ng lahat ng meron tayo, kaya dapat hindi tayo maging maaksaya. We should always remember that we are only managers of the things we have. We don't actually own anything in this world. Always think before you buy…
Is money our motivation in everything that we do? If money is not the issue, may iba ka bang gagawin sa decisions mo in life? Umiikot na ba ang buhay natin sa pera? Nawawala na yung oras kay God, sa family at sa iba pang mahalagang tao at bagay because we are pursuing money more than them? Never live for money, there is more to life than earning or spending, di ba mommies?
Do not put your security in money
Pakiramdam mo ba kapag marami kang pera sobrang peaceful? Pero kapag nabawasan na malungkot ka na rin? Kinakabahan ka rin ba kapag paubos na ang savings mo? Madali ka din ba ma-badtrip kapag konti ang laman ng wallet mo sister?
Tao lang naman tayo, hindi tayo perfect, at isa talaga sa challenging things sa buhay ang money issues. But let us not also forget, the real Source of everything, the One who truly provide is not our jobs nor our businesses, they are only channels. Magandang mag-ipon, mag-invest at mag-prepare sa future, pero ang security natin hindi dapat nandoon kundi na kay Lord because He is the only One Who holds the future.
Hope these simple reminders help us to reflect and assess if we are pursuing money more than the things that truly matters in this life.