6 years ago, when I found out that I'm pregnant, I became intentional sa mga food choices, body essentials and even sa environment ko, because I want to be a healthy mom for my growing baby inside me.
Pero paglabas ni Zee, biglang napunta na sa dulo ng list ang self care. Without realising that, my child also need a healthy mom even now that he's already out of my body.
WAKE-UP CALL
It was June 2017 when I was rushed to the hospital dahil hirap na hirap ako huminga.
Doctor's diagnosis? Gerd or Acid Reflux. Parang ambabaw na sakit, pero few months bago ako nakatayo sa kama, naging suki ako sa Emergency Room mommies feeling ko end of the world na tuwing my nag-attack sya. Difficulty in breathing, menthol feeling inside my throat, always bloated… ilan yan sa symptoms mommies.
Possible daw na due to stress at mga vitamins or supplements na too acidic sa tyan ko ang cause like iron supplement na tinake ko during that time.
Ang una kong naisip nung nagkasakit ako ay si Zee, sino mag-aalaga sakanya kapag may sakit ako? I'm reminded by God that "I cannot pour from an empty cup". I need to take care of myself so I can take care of the people I love.
Sharing with you mommies 5 simple self-care tips for mommies:
I know sometimes we feel guilty doing exercise because extra time na sana 'yun with our kids.  But think about this, if we have time to browse on social media, then there is no reason for us not to have time to exercise. Doesn't have to take that long. Youtube exercise lang ako ngayon mommies. 15-minute workout lang thrice a week. Medyo sandali lang but slow progress is still progress, kesa totally na walang exercise. Di ba? Then we can add more time eventually.
Set a budget for your me-time day
Request a few hours off from your mom roles. Relate ako sa feeling na umalis ka to have me-time pero nagmamadali naman umuwi. Haha! But really mommy, enjoy that break, use that time to relax and pause for few moments. Set a budget, hindi kailangan grand. A simple pedicure, cup of your favorite frappe or a slice of cake solve na! This may be hard especially during newborn to toddler stage, but a simple alone time in the room can help a lot momma.
Start a hobby or re-do things that you love
What's your passion or hobby that you already put in the box when you became a mom? Maybe it's time to take it back out or maybe you can start a new one.. Ako, masaya na ako makapagbasa ng book. And speaking of book, share ko na rin itong part ng book na binabasa ko..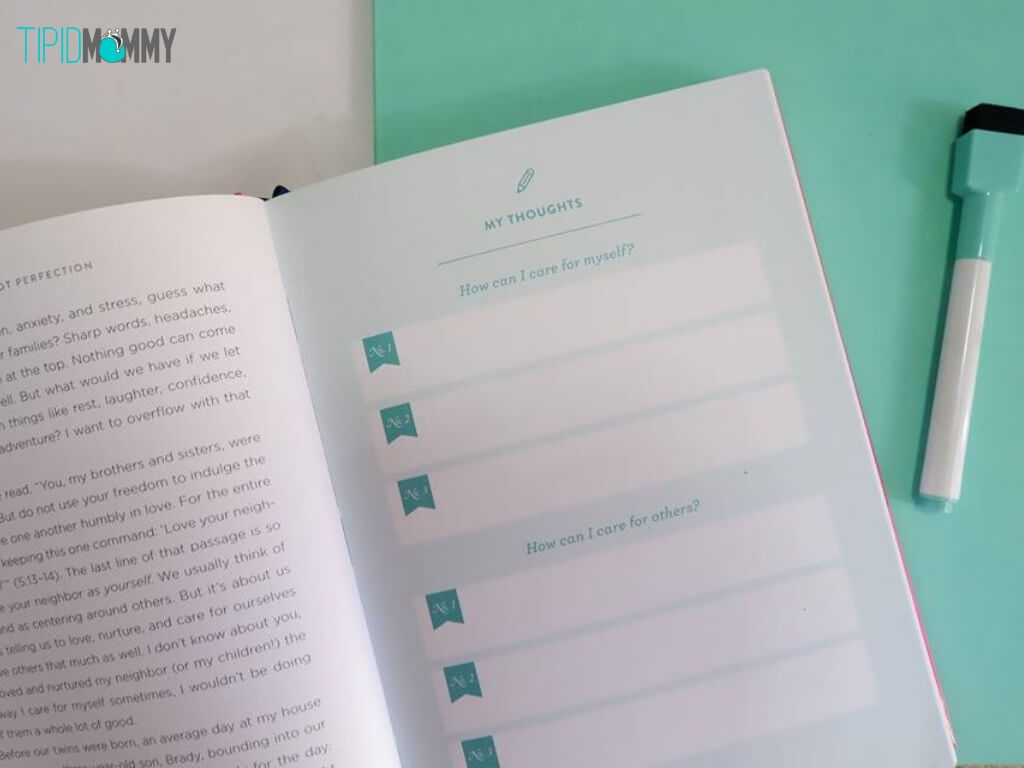 To list things that you can do to show care for yourself and to others and that there's also beauty in slowing down..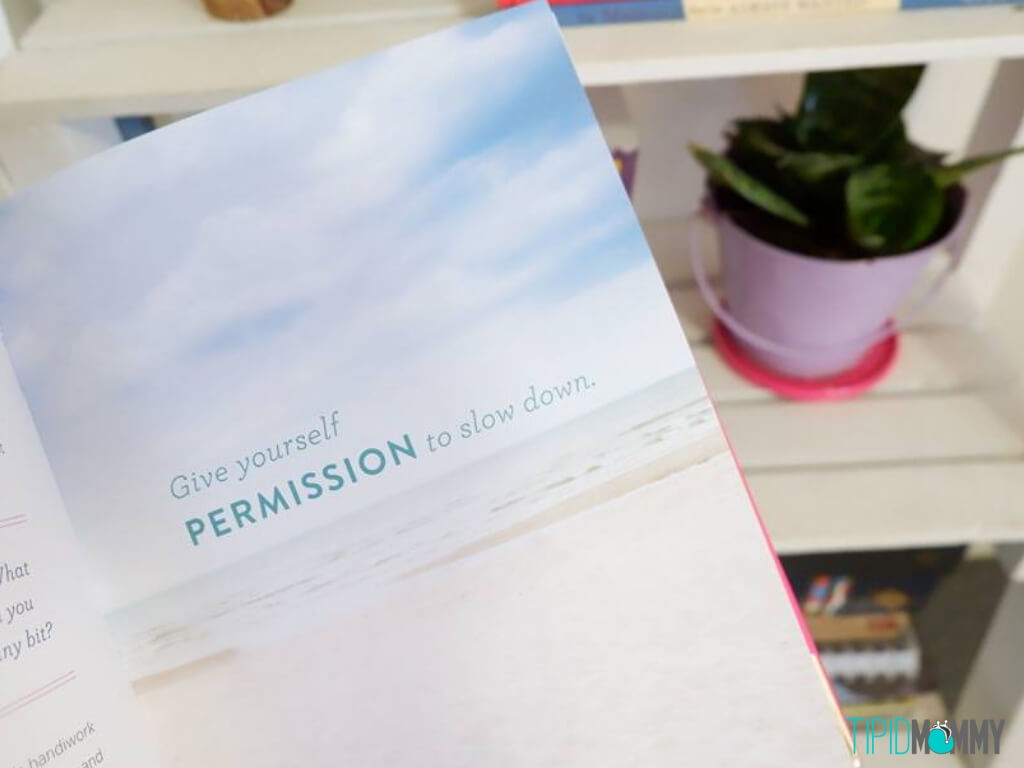 Ako kasi si panic and palaging nagmamadali sa dami ng jinajuggle, kaya slowly, I'm saying "no" to things that don't matter much, and giving my "yes" to things that I love doing. Find time to do the things that refuel you.
Unorganized and cluttered day. That's how I describe my day without first taking time to connect to my Main Source – God. Spending a special date early in the morning with the Lord refreshes me. Parang empty battery ako na kailangan i-charge to fully function. It also my way of humbling myself and admitting that I cannot be a good wife and mother on my own. I need His grace and guidance before wearing my hats for the day.
If you want to connect to the Main Source as well, here's a good free online devotional mommies that you can start.
Dapat isama talaga sa budget ang vitamins, supplements and healthy meals. When it comes to health kasi, tayong mga nanay medyo nanghihinayang, pero hindi dapat, kasi di ba "health is wealth". Vitamin C should be a must-have in every household, especially in the changing weather, viruses and outbreaks spread in the news. We need to protect ourselves mommies and even our family.
Recently, I've attended a gathering wherein diniscuss sa amin ang benefits ng Non-Acidic Vitamin C. Heaven sent sya para sa akin, finally there's a vitamin C na pwede sa akin, hindi ako mag-woworry na baka mag acid reflux ako. So we switched from a regular ascorbic acid to a non-acidic vitamin C.
My husband and I were taking it for almost three weeks as of this writing, and walang reflux effect sa akin. I also noticed na may extra glow sa skin and nag improve ang energy level ko. At infairness, andami ko na nakasalamuha na may ubo at sipon sa biyahe kapag lumalabas ako pero hindi ako nahahawa.
Here are some more things I love about VitaGreen-C:
I love that even yung capsule nya is made from vegetable

It is alkaline, making it safe even for an empty stomach

It helps protect our bodies against cancer

It is very AFFORDABLE mommies P6.50/capsule lang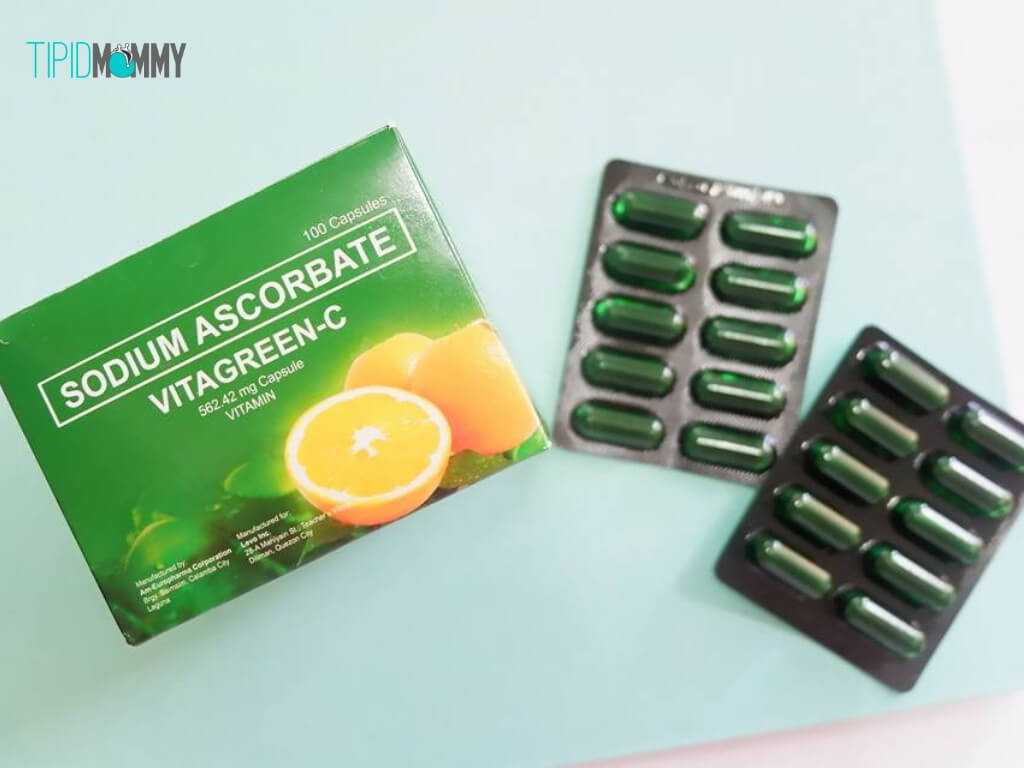 I'm really thankful that VitaGreen-C introduced their vitamins to us. We are excited to share more of its benefits soon as we continue to use this product.
Kayo din momshies, maybe it is time to switch na to a non-acidic vitamin C!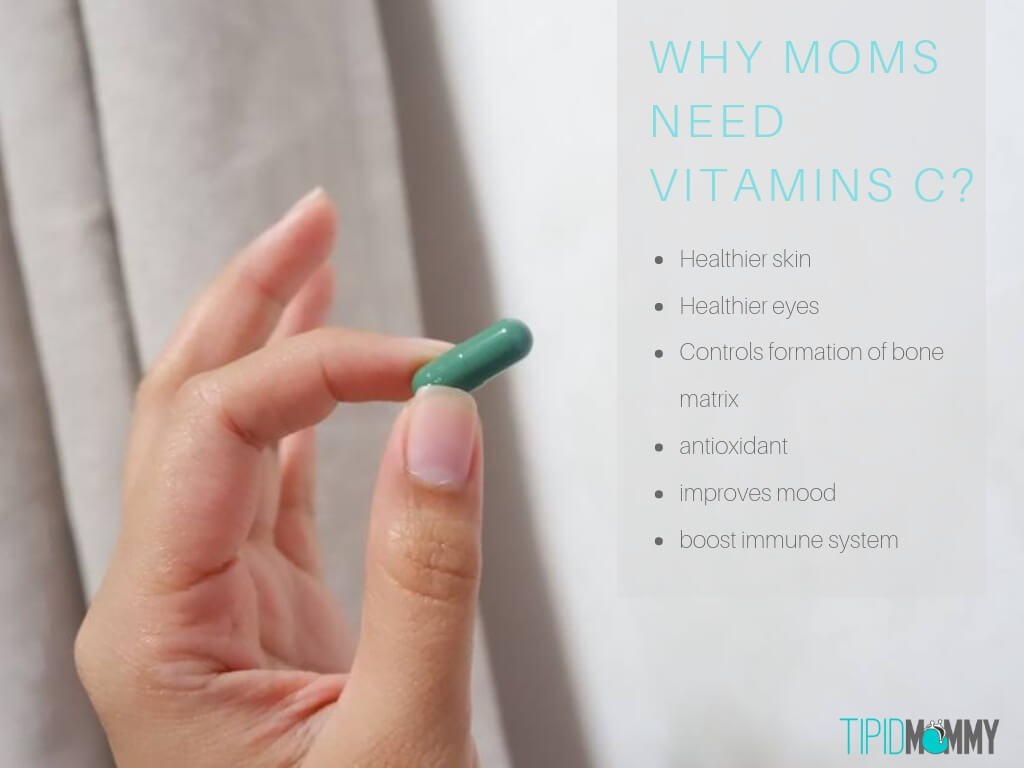 You can order from Better Health PH on their Facebook or Instagram, it is also available in Lazada and Beauty MNL.
Hope these simple self care tips help you mommies, remember. Hindi pagiging selfish ang self care, it is refilling up ourselves so we can love and take care of the people that God placed in our lives better. A healthy mom and wife, is the best gift we can give our family.