Having a credit card is very easy now a days, there are many sales officer approaching people in the malls and offering a Free umbrella para mag-sign up sa card.
I can't deny the convenience it brings, imagine makakabili ka using a small plastic card kahit wala kang dalang cash. But again, charged to experience (and to bank interest), even pala almost 3 years na akong good credit card payer, I am still not exempted sa possibility to accumulate credit card debt.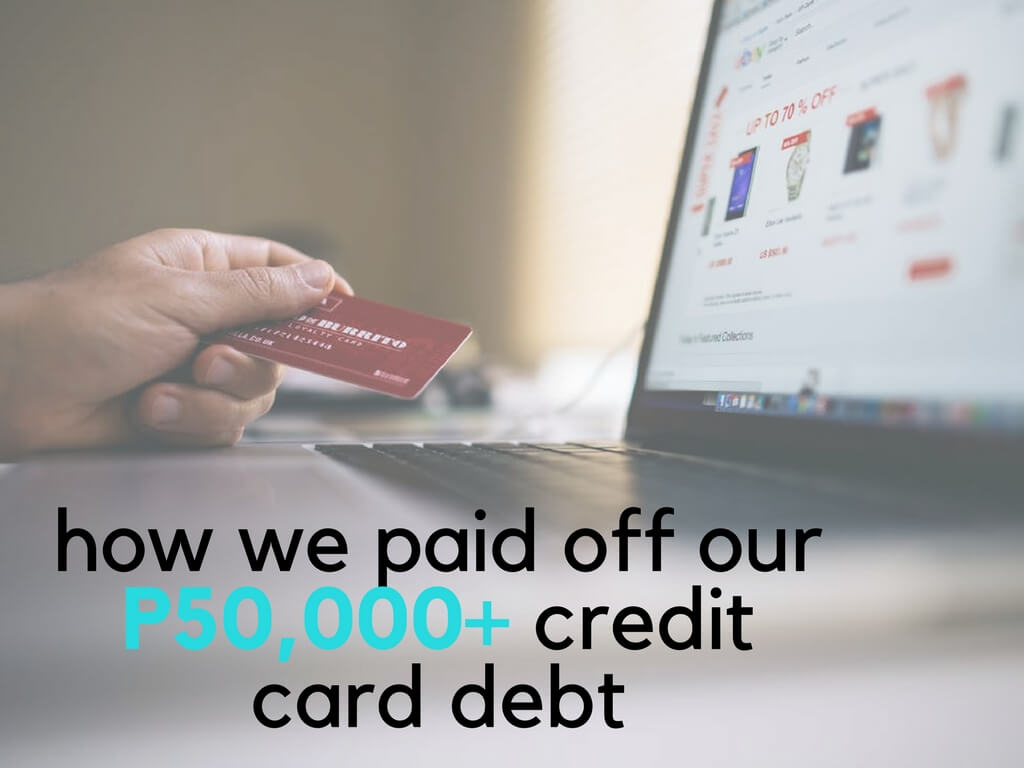 Time flies real fast, its been almost 3 years since we paid off our credit card debt. But I can still recall the pain and burden  of having a credit card debt.
The shocking P50,000 amount due didn't surprised me because we know how we accumulated that amount, but what made me scratched my head is "how can we pay for it? Paano?!"
Here's a little background how we accumulated that credit card debt: 
 Being a first time parent, we love shopping for our little one's needs and our "WANTS" for him as parents.
Siblings hospitalization due to dengue, the hospital accepted credit card, since I don't have a cash-on hand to lend my parents, we just used our card to pay off the hospital balance.
We used credit card for its convenience and POINTS not knowing that the next month, we will not have a new project (in our business and work. Long story but to give you a background, we get paid project-based). So yung pang-bayad namin dapat sa card nai-allot namin sa needs namin. Yes, sadly, we do not have an emergency fund yet that time.
So we ended up paying of just the minimum payment for almost 6 months.
This bible verse suddenly made sense to us.
The rich rule over the poor, and the borrower is servant to the lender. Proverbs 22:7 NIV
After ilan months, natauhan ako and nagulat ako sa laki ng compound interest tapos parang wala naman nababawas sa utang. Dahil napaka-stressful talaga ng may utang, we've decided to pay it off as soon as possible dahil ito rin yung may interest na debt namin that time, kahit challenging dahil we were facing an income problem during those times.
If you are buried to a credit card debt, I know how it feels. I know how stressful and burdensome it is. Don't lose hope. And I'm very happy to share with you the small steps our family did, that helped us pay of our debts, most specially our credit card debt.
Here are some of the steps that we did that helped us paid off our credit card debt: 
Acknowledge that credit card balance is a debt
Yes, it is a type of debt, it may offer an easier way to pay it off (minimum payment) but we've learned that by acknowledging that it is a debt that needs to be paid as soon as possible it will help you get started in your plan to pay it off. We shouldn't treat it like an ATM, nor an "utang" na open due date. Set your target payment date in case you are only paying the minimum amount like us before.
Keep your card and use cash for the mean time 
"Cash is king",  ayan muna ang mantra namin that time, we don't want to add purchases and items to be paid while we still have credit card debt. Cash basis muna lahat. I've heard some financial advisers even suggested of breaking it muna so it will stop you from using it, what we did is, we called our bank to cancel our credit card yung parang same procedure in case nawala yung card, so we cannot use it because its inactive.
Include the "debt payment" in the budget
Like utility bills, food and others, we treated our credit card debt as one of our payment priorities, we're paying extra on top of the minimum payment para mabawasan yung main balance.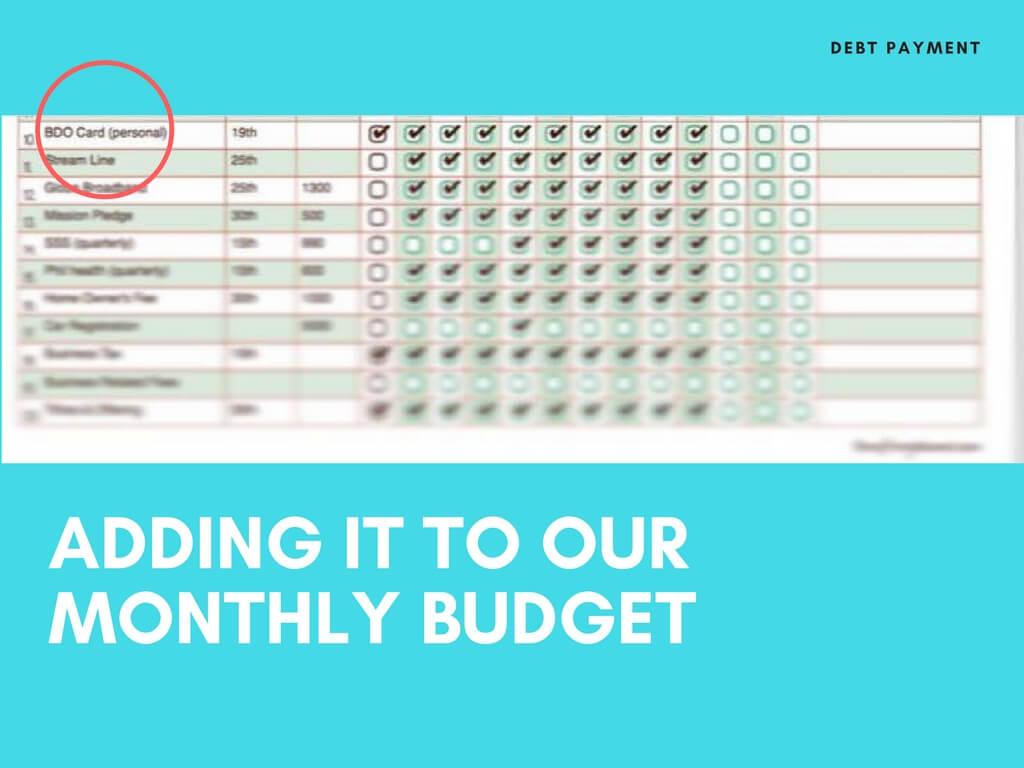 Don't forget to strategize on how to pay the debt better: You can also check other bank's promo like "Zero percent or lower interest rate for balance transfer" so you can save on the interest rate. This is very advisable if you have two credit card balances.
Generate additional income 
We sold pre-loved items (online garage sale), talk to as many clients as possible, do part-time gigs – yes hindi madali kailangan talaga ng discipline and determination. But we want to hit our target to "pay off our debt asap". But honestly, there are items that we wanted to keep sana but since we have debts to pay, we have to let them go…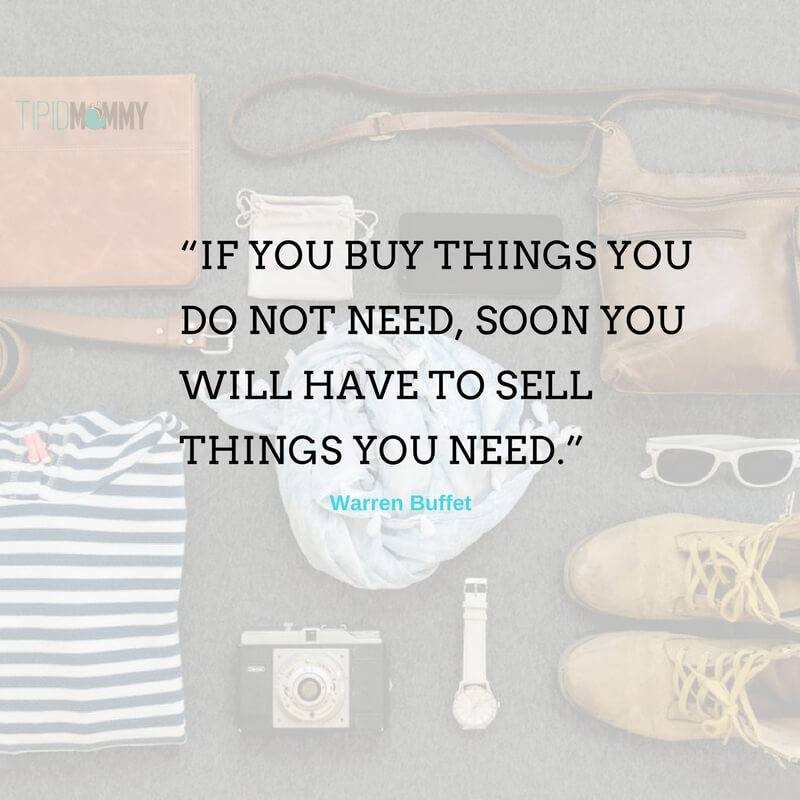 Live Simple and below your means 
At a snap our way of earning changed, indeed we cannot place our security in our businesses nor bank accounts. We've learned since then that our way of living should remain simple no matter how much we are earning, while paying off our debts, sobrang tipid living talaga muna ika nga nila "kapag maikli ang kumot matutong mamaluktot" 
We are amazed on how God opened doors of opportunities after we repented on our mismanagement of resources and we lifted to Him our family's desire to be debt-free and be better stewards and that's one of my "WHY's" or the reasons why I started this blog.
Just this year, after years of training and self-discipline. I think we are ready to use the card again only for convenience, reward points and freebies sake, but more wisely and responsibly now. I called my bank and asked for a card replacement, though it is already passed their standard of 6 months holding period lang, but since I have a good record of paying my debt, it was given a consideration.
If its possible for our family who doesn't have a regular paycheck every month to pay off our credit card debt, it is also possible for you!
If you are in a credit card debt yourself, don't lose hope.
There is always a way out and it all starts in admitting the problem and staying committed to solving it.
What about you mommies? What are your tips to be credit card debt-free?