If we will have an honest "heart check", how many times did we choose money and material possessions more than God?

Yung simple na mas inuuna pa natin ang other tasks instead of praying. Facebook over Bible pa lang, guilty na agad ang marami saten, di ba?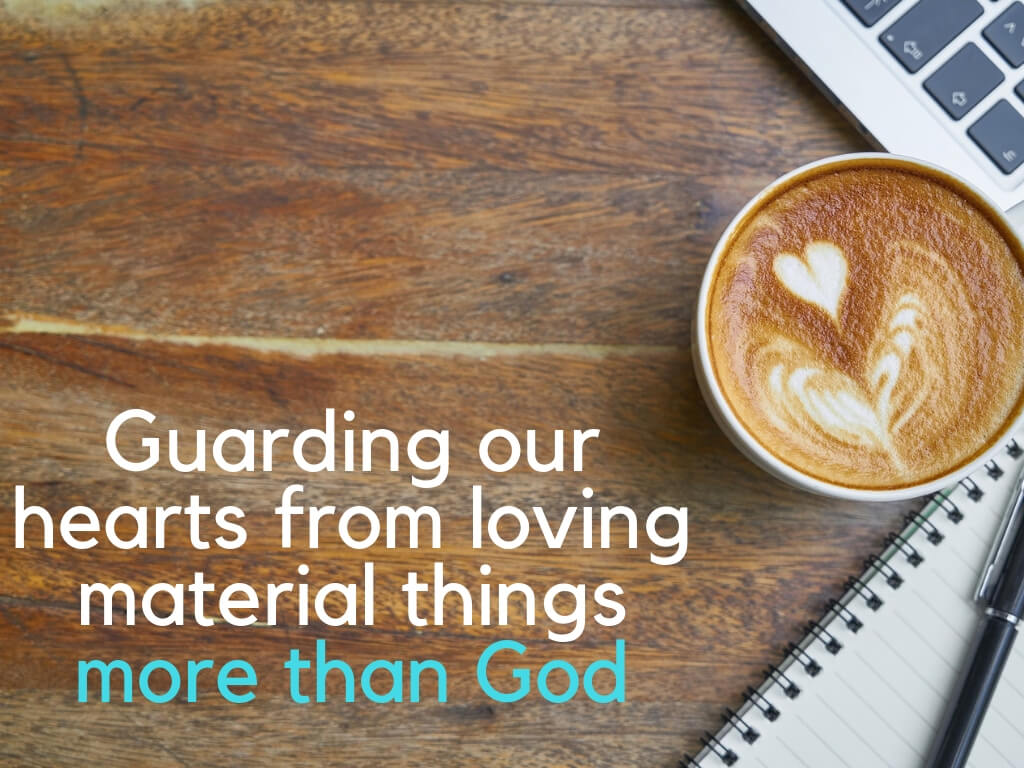 So how can we really guard our hearts from loving money, materials possessions and other stuff more than God?
Give more – when we open our hands more to others, we also loose grip of our hold to finances and material things. We have a "helping fund" in our family, a portion of money that can be used to bless others. Sa simula pwede mag-start sa small amount per month, depending on your family's income.
Count your blessings – being grateful will help us be contented of what we have, as I've shared before, mag sisimula tayo magkaroon ng greed and bitterness kapag mas binibilang natin ang blessing ng iba. Mag sisimula din tayo ma-addict to accumulate more, kapag ayaw natin na mas ok ang iba kesa sa atin. Let us make it habit to think or write the things that we are grateful for.
Live below our means- living a simple life doesn't mean we are mediocre and not after quality or excellence. But when we live a lifestyle that is below our income, we still have more fund that we can use to serve others. Unlike if we are in huge debts, di ba anghirap din talaga tumulong kung tayo mismo kailangan ng tulong? Alam ko pakiramdam nyan moms, gustong gusto natin maka-help pero waley talaga. Kaya we really want to live below our means so we can give generously to others. Without calculating na "uy pambili na namin un ng bigas" di ba?
"When God blesses you financially, do not raise your standard of living, raise your standard of giving."
Honor God with our finance – kung may way nga daw for us humans to rob God, it is by not giving the first fruit of our harvest, or for Christian families like us, we call it "Tithes and Offering", kapag natutunan natin iacknowledge si Lord as our Source and not our jobs or businesses, we can easily give this portion back to God, less worry din sa mauubusan tayo, dahil alam natin kung sino ang totoong Provider natin, hindi ang boss natin , hindi customers.
Have a deep relationship with God – when we have an intimate relationship with God, our values will change, even our view on money and other things, we can also understand that when we have God, we have everything we need. Material blessings are just bonus.
I saw this banner in Facebook "Judas betrayed Jesus for 30pieces of silver, what worldly pleasure are you trading Jesus for?"
This is something we all need to think about, yes, including me, madali tayo mahulog sa mga traps, that's why we always need to have a regular heart check. Are we still aligned sa will ni Lord?
Are we pursuing to build our own kingdom or God's kingdom? Are we good stewards not just of our money, but also with our time? Si Lord pa rin ba ang number 1 sa buhay natin?
Life is more than acquiring wealth, financial peace, establishing business and careers, there is more to life than earning money.