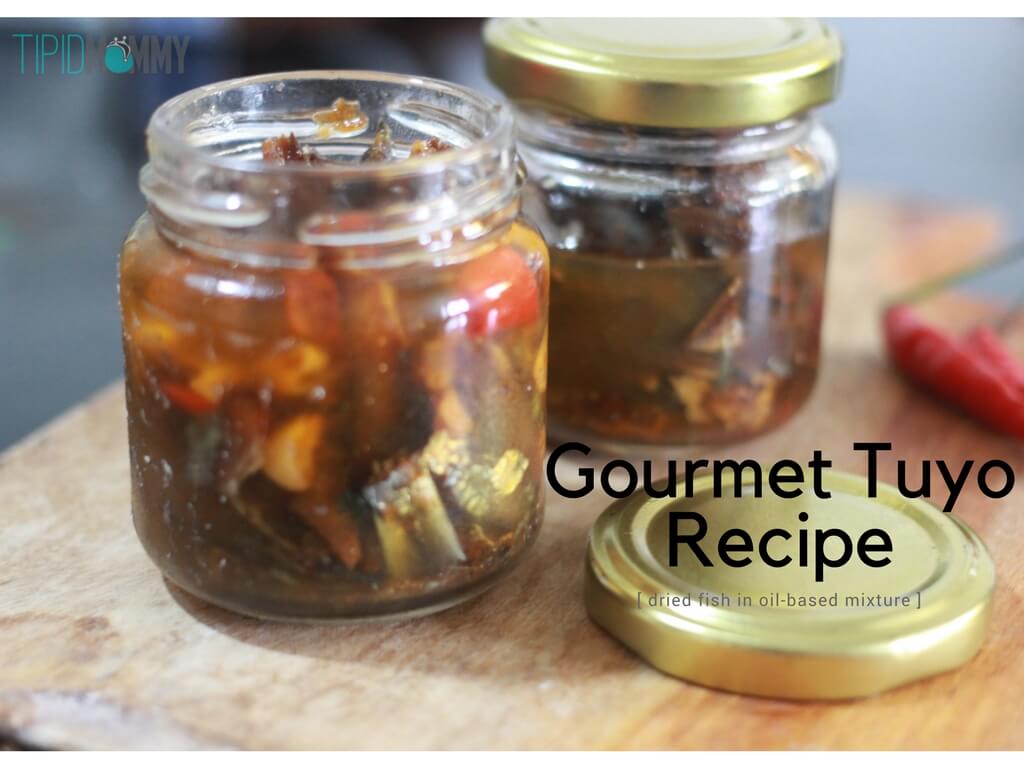 Being yayaless, bulk cooking helped us a lot, para hindi maubos time namin sa kusina. We are not into canned foods as much as possible, especially that we have a little boy, we became extra mindful sa meal plan namin. Since we do not have a helper nor a yaya, usually graveyard lang kami nakakawork ni husband (when our little guy is asleep). There were nights na nagugutom kami, so aside from sunny side up na egg, we are just happy may bago kaming "to the rescue ulam".
A friend shared with me that she made gourmet tuyo for her family. Ate Ria, my neighbor, gave us some, and ansarap talaga mommies! So I asked for the recipe, she shared that she got it from a Food Recipe Group on Facebook, and medyo iniba ko lang ng konti.
Here's my version of Gourmet Tuyo: 
Ingredients
1/2 kilo Tuyo
2 cups Olive Oil
2 cups Corn Oil
3 siling labuyo (slightly crushed)
1 head garlic (crushed) 
1 cup vinegar
1 tsp paprika
1 bay leaf
Oil for frying
Procedure
1. Clean the tuyo by removing its head first. (remove na daw ang ulo ng tuyo para mas tipid sa oil and time)
2. Fry the tuyo in cooking oil (about 6 minutes)
3. Descale, remove the spine to make "fillet tuyo" and arrange in sterilized jar. (mas ok kapag vertically arranged)
4. Fry the garlic and siling labuyo, add olive oil and corn oil. Once brownish na ang garlic, add the vinegar, paprika and bay leaf. (Bring to boil)
5. Pour the oil mixture in the jar with the tuyo, let it cool down and store in your refrigerator. Mas better to eat it after 3-5 days para kumapit na yung lasa ng oil mixture sa tuyo.
Consume within a month, pero sa amin days lang ito tatagal! haha!
Total Cost: P 400 (pero madaming matitira na ingredients for your next batch mommies)
Ayan hindi na tayo bibili. Nagtingin ako sa mall P200-300/jar pala ito. We can really save a lot when we DIY.
Enjoy your Gourmet Tuyo Mommies! Best served ito with rice (especially kapag sinangag).