Our family used to live a mobile and on-the-go life. The past months of no outdoor meetings, no weekend malling, no field related work and alike made our family even closer.

As they say, the quarantine somehow became a reset button to many – family relationships, passion projects and even to the environment.

But we also cannot deny the fact that there are many not-so-good things this virus brought all of us, na halos lahat tayo ay affected.

Even if prepared ka financially, emotionally, spiritually and physically, I believe no one really is 100% prepared for this recent event we are all facing.

As a mom, or parent, we don't want to pass the hurt, pain that we adults are facing to our kids.

Here are some of things that we did as a family that helped flourish our relationship more during the quarantine period:

Family Devotion – during the past days of uncertainty, our family believes that we can still hope for a better future because we know that God holds the future. Doing family devotion, praying together not just strengthens our family but most of all our faith in God.
Simple Living – we are not living a grand life even before the quarantine, but we appreciate a simpler living even more. We enjoyed harvesting from our "Farm sa Paso" haha! Because we do not have a garden area in our small home but we have plants planted on pots. Simplified lifestyle made us appreciate things that matter more.
Dreaming New Dreams Together – our small business is one of the hundreds or thousands businesses affected by the quarantine period. Our 10-year old small garment business was now closed. But we know that when a door closes, new opportunities will open. We are still in the process of finding the new business path. But like most small entrepreneurs now, we believe that closure and failure doesn't mean dead end.
Serving Others As A Family- one thing we really admire about our nation is the spirit of "Bayanihan". Iba talaga ang mga Pinoy! We are thankful that in our own simple ways, we can share whatever talent and blessing we have to others. It is also an opportunity for my husband and I to teach our son about generosity and servanthood – to help on and off cam.
Serving others through our God given talent and God given influence – by sharing useful tips on budgeting, food storage, re-growing food and a lot more inside our mom community and on the blog page. Kahit may pinagdadaanan tayo sa buhay, hindi iyon hadlang para maging blessing tayo sa iba. Sabi nga in times of need, sow a seed.
Being grateful everyday – we all can relate that we miss the old regular things we do – commuting, watching movies, going to parks or play areas, normal trip to Palengke or supermarket, seeing friends and visiting relatives. We honestly see all the value of things now that we cannot do them.
But by counting our blessings big and small everyday, it reminded our family how faithful God is in our lives. There are really bad days, but when we look closely, there is always something we can be thankful for.
As of this writing, we are facing many challenges as a family, aside from the business closure, cancelled trips and more.

But this quarantine period made our family communicate with each other more, discover new things, connect with old friends online and bond more as a family.

As a parent, when lockdown was announced, our main concern was our child.
We are really hoping that in the eyes of our child, this quarantine period is not a bad memory, but a moment where my husband and I played with him, baked with him, spent movie nights with him and read him a lot of story books. We are hoping that he will recall these times not as a tragedy but a good childhood memory.

"Maybe spending family meals at home, spending more time with our kids, and living a simpler life based on necessity is the solution to more than just this virus" -Steve Dillender

"For I know the plans I have for you, plans to prosper you and not to harm you, plans to give you hope and a future" Jeremiah 29:11

Yes, many not so good things happened, but the quarantine period made our family closer and our faith stronger.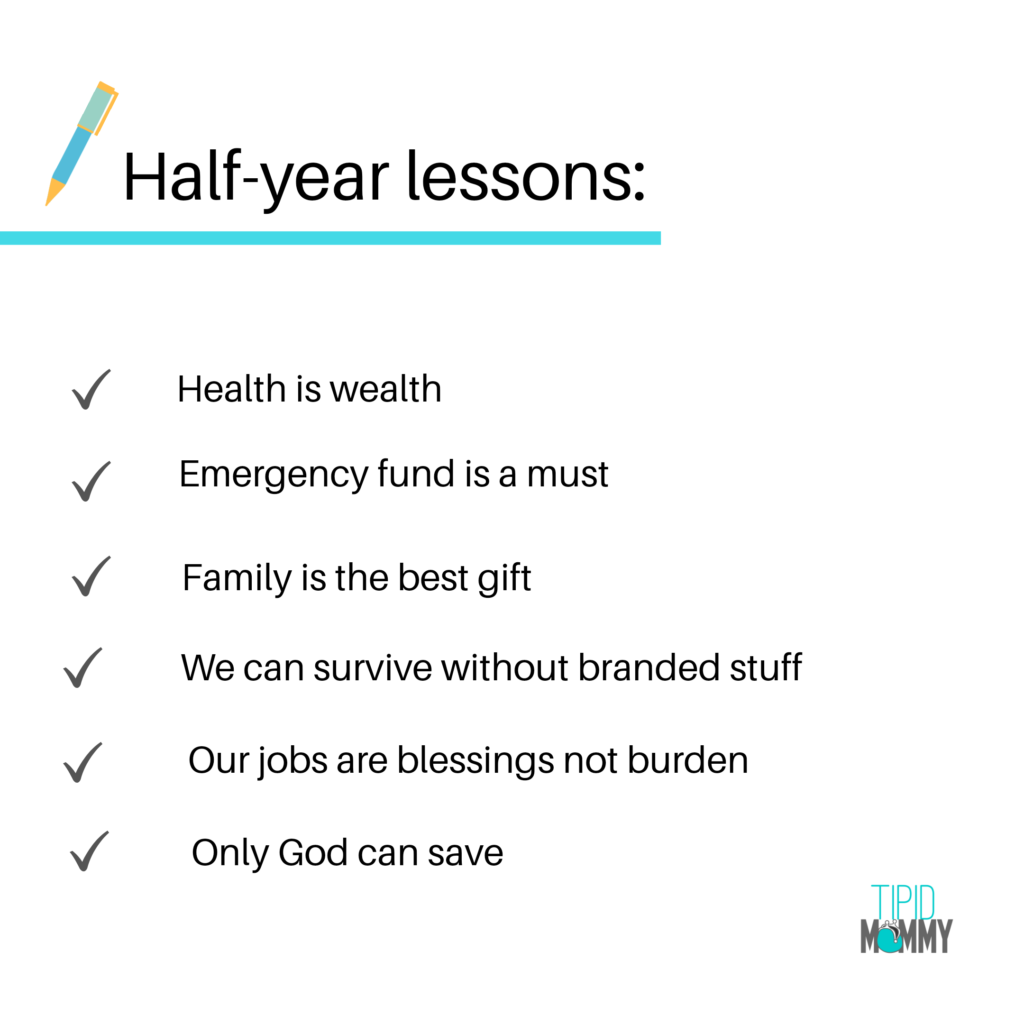 Years from now we want to look back to this year saying "Wow! Nalampasan natin iyon lahat" 💕

This story is an entry to ComCo Southeast Asia's "Write to Ignite Blogging Project". The initiative is a response to the need of our times, as every story comes a long way during this period of crisis. Igniting and championing the human spirit, "Write to Ignite Blog Project" aims to pull and collate powerful stories from the Philippine blogging communities to inspire the nation to rise and move forward amidst the difficult situation. This project is made possible by ComCo Southeast Asia, co-presented by Eastern Communications and sponsored by Electrolux, Jobstreet and Teleperformance.