Debt..
Is there any season in your life that your earnings for this month is not already yours?  Because even before it goes to your bank account, it already belong to someone else.. sad part is it's not even your spouse but Creditors.
My husband and I experienced that, bad debt is bondage, it causes us a huge amount of stress.
But how did we acquire debts?
1. We buy things before earning most commonly in the form of "credit card debt" – we thought our income will remain at its peak and we kept on buying new stuff for our newborn Zee that time, but when I decided to become a fulltime mom and be on business hiatus, our income dropped real low and we couldn't pay the full amount of our bill and ended up acquiring compound interest.
2. Became a guarantor – a very big mistake on our part, we borrowed money for other people's emergency. Since we are the one who borrowed for them the moment they cannot pay, we don't have a choice but pay for it to protect our integrity because we believe that having integrity is better than material riches.
3.   Lack of income – we loss our emergency fund when my husband's job went off-season and as I've mentioned earlier I was on a business leave and our businesses didn't operate well when I was not around – another mistake that I wasn't able to duplicate myself well. 
That's why 2 years ago, we've decided to change our lifestyle or should I say we are forced to change it.
(Less eat-out, no more cable tv, living with less and eating "tipid" meals)
Last September 17, Sunlife Brighterlife Institute hosted a course about "Debt" and the trainer was none other than Mr. Aya Laya, the man behind "Pesos & Sense", He is a Certified Securities representative, a Certified Investment Company representative, a realtor, and a writer with an MBA from University of Western Australia. (credits to Pesos and Sense Website)
I am happy to share with you my take home learning from the workshop about Debt.
"Important things we should know about Debt" :
Debt is simply the use of other people's money. Debt is not actually a negative thing. Debt can be used as a tool to make our financial life comfortable.
Coach Aya Laya  discussed the two kinds of debts, Good and Bad Debt. Yes you heard it right, there's such thing as good debt.
The Good and Bad Debt Comparison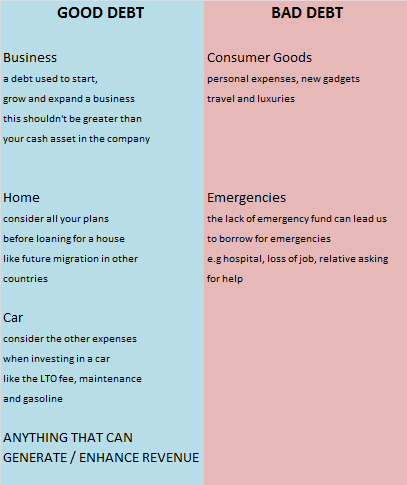 I got really curious, especially in business debt, true enough that most of the time, lack of fund is what hinders a business growth – like lack of machines and state-of-the-art equipments.
Most of the wealthiest and most successful entrepreneurs actually use Other People's Money to grow their business – examples are businesses on stock market.
A simple laptop can be a good debt too, if you will use it to generate income like additional online jobs, freelance work and more ,but if you will you it for status symbol , then I think it will fall into the bad debt category.
He also shared the questions we need to ask ourselves before borrowing:
It will definitely be a good practice to ask these questions before we enter any financial debt.
WHY? Should we know our WHY's? Do we really Have to? or we can consider other options?
Coach Aya Laya also shared some ways on how we can get out of credit card debts. Surprisingly, those are the exact steps we did last year when we've decided to pay off our debts – not just in credit card debts.
Let me share with you dear readers, the format we've used to pay off our debts last year.  The chart is just a sample, for some security reasons I didn't include the real names and amount of the debts.  
Here are the steps we did last year in settling all our debts and Coach Aya Laya also discussed these steps in the workshop especially in dealing with credit card debts.
We are currently praying and planning on how we can pay off our home loan the earliest possible time because we noticed that only 10% of our principal balance was deducted to our monthly loan payment 90% is all interest rate. Woah! Coach Laya discussed about the "compound interest" too, we can either be a victim of it or enjoy compound interest by investing.
Coach Aya Laya also mentioned that most of us have misbelief of "We can use other people's money for free" which is a sad belief. We need to be fair, respect other people's hard work, and pass the integrity of working in the truth and with the Truth always.
I also remember what Chinkee Tan told us before, "it is the willingness to pay the debt that truly matters".
It is better that you should not vow than that you should vow and not pay. Ecclesiastes 5:5 

 Debt can help or destroy businesses, personal statures and relationships. It is in the matter of how we view it perhaps. I believe we should always be mindful of the things we and careful jumping into things we don't understand. We should always ask for wisdom from God for there is no other consultant for our decisions than the One who created everything.

I hope this post help people who are going through financial debts just like we did.

Have you also gone through debts and got out of it? Feel free to share your thoughts and tips.