If you're a 90's kid, Alladin must be part of your childhood and one of your favorite movies too.
Late last year, nirequire sila Zee mag costume for a school event, wala syang kilalang mga old Disney male characters, pinapanood namin sakanya yung Alladin and since then mga 50 times na namin napanood. Haha!
No wonder when we saw the trailer of Alladin live action remake sobrang excited sya. Very timely and an answered prayer when we got included sa press screening ng Alladin at Vista Cinemas -Evia Lifestyle Center.
Few days before the screening, gumawa pa sya ng countdown chart haha! Ganun sya ka-excited mommies..  
What we love about the movie?
All Alladin favorite music was there – all those lovely music from the cartoons were part of the movie, making it a big throwback sa childhood memories and a new song to sing with your baby.  
"A whole new world
A new fantastic point of view
No one to tell us no
Or where to go
Or say we're only dreaming"
Talented Casts – not only Will Smith rock being the genie as well as the other main casts played their role best. Bagay na bagay yung role kay Princess Jasmine and Alladin.  
Lesson filled – as a parent, I always value movies with values or lessons for children. As we all know Alladin is a great movie to teach our children about being true to ourselves and sticking to the truth. The movie also highlighted the importance of friendship which is more than any power and riches.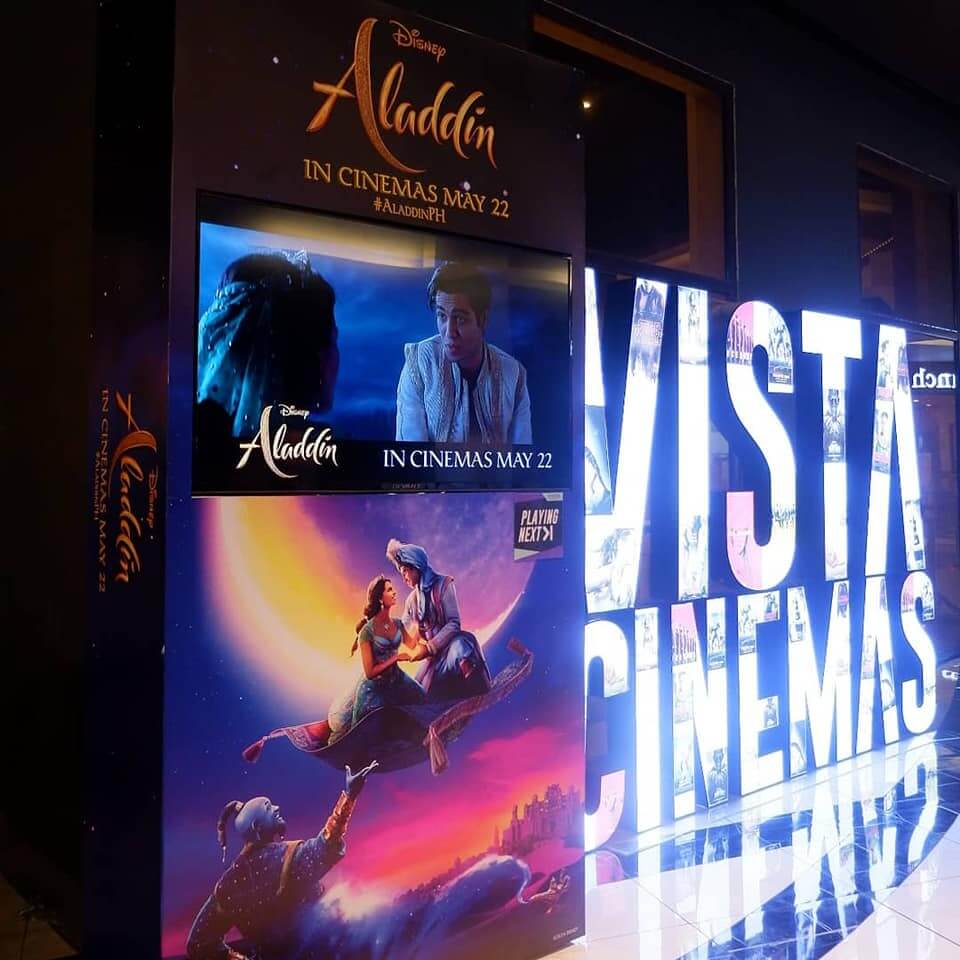 Rated G (for all ages) But parental guidance is recommended on some fighting, kissing scenes and some important theme like stealing and etc.  
I also appreciate that they revised the costumes to a much wholesome look (but there were still scenes na kita cleavage ni Princess Jasmine hehe)  
Overall we loved the movie, watching it at Vista Cinemas Imax Lazer at Evia Alabang made the experience more fun and memorable.
Alam nyo ba that they are the first Imax with Lazer in Southeast Asia – mas sharper yung image, vibrant colors and powerful sound (parang nasa movie ka).  
The seats are big and comfortable, the movie ticket fee for Imax Lazer comes with a Free drink and popcorn.  
View this post on Instagram

You can now reserve your seats online: 
2D  = P450
VIP 2D  = P630
Imax with Lazer = P780
I would like to share more about the movie but I recommend you experience it for yourself, definitely a must watch family movie. Showing na this May 22!